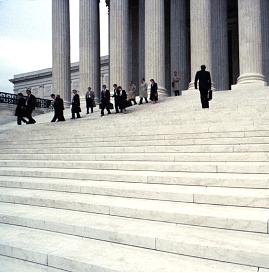 On October 13, 2009, the Senate Finance Committee approved Senator Max Baucus's (D-Montana) health care bill, the America's Healthy Future Act, by a vote of 14 to 9. Senator Olympia Snowe (R-Maine) was the only Republican to vote with the committee's 13 Democrats in favor of the bill. The Congressional Budget Office (CBO) estimated the cost of the bill at $829 billion over 10 years.
The stated aims of the legislation are to lower costs, provide quality, affordable health care coverage, make purchasing health insurance easier, prohibit discrimination due to health factors and improve the way the health care system delivers care. However, many in Congress are divided on whether the bill can meet these objectives. Opponents of the bill have argued that it will increase costs for many Americans, rather than making health care more affordable.
Key Provisions
Key provisions of the bill are outlined below. One provision that is conspicuously absent is the "public option." Instead, the legislation provides for nonprofit, consumer-run cooperatives to fill that role. These cooperatives would be eligible for federal grants and start-up funds.
Insurance Market Reforms – Insurance companies would be required to issue coverage to all individuals, regardless of health status and would no longer be able to limit coverage based on pre-existing conditions. Limited variation in premium rates would be permitted for tobacco use, age and family composition. Rates could vary between geographic areas, but not within the same area. These reforms would apply to the individual and small group markets. Large and midsize employers with group health plans would be precluded from imposing unreasonable annual and lifetime limits on coverage and would be required to cap out-of-pocket costs.
Exchanges and Tax Credits – The bill would create state-based web portals or "exchanges" where individuals purchasing coverage on the individual market could review every coverage option available in their zip code. The exchanges, which would have to be established by 2010, would provide standardized forms and materials, as well as customer support through a call center. Certain individuals would be able to receive a tax credit for purchasing coverage through an exchange. Some small businesses that provide health coverage would be eligible for tax credits as well.
Individual and Employer Mandates – Beginning in 2013, all U.S. citizens and legal residents would be required to have health insurance, either through the individual market, public programs, or their employers. Those who choose to keep their current insurance are able to do so. An excise tax would be imposed on those who fail to comply, unless they qualify for a religious or income-based exemption. There is no requirement that employers offer coverage, but certain employers must automatically enroll employees if they do provide plans and some employers may be assessed a fee if their employees receive premium tax credits.
Medicaid and Medicare – Under the bill, Medicaid would be expanded to cover additional individuals and States would receive federal assistance to help address the additional costs. The bill provides for annual wellness visits for Medicare beneficiaries and encourages coverage of preventive services for Medicare and Medicaid beneficiaries.
Next Steps
This bill is not likely to be the final word on health care reform. A number of other bills are in consideration by various Congressional committees. If the House and Senate both manage to pass health care overhaul bills, a conference committee then will negotiate a final version requiring approval from both chambers before going to President Obama for his signature.